NEWS:
<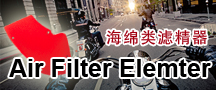 R & D strength   We have a professional R & D team, more than ten years focused on the development of automobile and motorcycle parts in the field of innovation to create patented products
production ability We Have a strong professional technical force, and established a research, development, production, sales for the system.
Quality Inspection  The factory production of filter has good sealing performance. Dust good. Excellent filtration performance characteristics
Customer Care  To provide customers with quality products and perfect after-sale
Ruian Hongjia Auto & Motorcycle Parts Co.,LTD
Filter through a filter paper refers to filter impurities from the gas or the role of feature Member. Generally refers automotive filter, it is to launch the car accessories. Different filter function is divided into: oil filter, fuel filter (fuel filter, diesel filter, oil-water separators, hydraulic filters), air filter, air filter and so on. the engine air, oil, fuel three kinds of filters, generally referred to as "the three filters."Many engineers argue that modern engines have a longer life, one of the main reason is a effective filtration system.